Dear Franchise Partners,
We are gearing up for a very special moment in Dr. Vinyl history. In 2022, Dr. Vinyl will have reached a milestone that everyone in the entire system should be extremely proud of. It will officially be 50 years that Dr. Vinyl has been in existence. And we would love to celebrate that moment with each of you at Convention 2022. We would like to get an idea of how many attendees we will have at Convention 2022. We have it scheduled for Thursday March 24ththru Saturday March 26th, 2022. This will be a three-day convention. The hosting venue will be announced at a later date.
Unfortunately we were unable to have convention in 2020 & 2021 due to the pandemic. It seems like a lifetime since we've been able to network with each other and be able to have all the old faces meet the new faces. Well, the time is here to make all of that come to life again. Hopefully, the pandemic will not stop us this time.
We want to bring you the best convention ever for this 50 Year Anniversary. To do this, we need your commitment to attend as soon as possible. We don't want to sound negative, but if we as a franchise system are unable to have at least 200 attendees at the upcoming convention I will be forced to cancel the event. I need to know your response by December 1, 2021. Please do your best to make every effort to attend this year. We really would like to see each one of you in March!
Sincerely,
Richard Reinders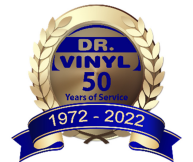 ---
CONVENTION 2022 RESPONSE FORM
Please complete this form and return to Dr. Vinyl Headquarters by
December 1, 2021,
Attn: Vickie or Buster via fax, mail or email
(vickieb@drvinyl.com or buster@drvinyl.com)
. This form can also be completed on the Dr. Vinyl Private Website
www.drvinyl.com/member
(username and password required).
Please fill out separate forms for each Franchise Associate attending convention
For your convenience in filling out this form, it will be posted on the Dr. Vinyl Private Website at www.drvinyl.com/member (username & password required.